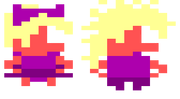 Blondina is a playable character in
Giana Family
. She is playable in any version of the game.
Appearance
Edit
Similar to Giana (classic) sprite from The Great Giana Sisters. She has blonde hair, pink node, pink-red skin, pink shirt, purple skirt and white shoes.
Meaning of the name
Edit
"Blondina" mean "blondine" or "blond". That explain why Blondina is blond.