We're Getting Mutants in the MCU - The Loop
Play Sound
Giana Sisters: Twisted Dreams

Box art
Release
October 23, 2012
Genre
Platform
Number of player
1 player
Developer(s)
Black Forest Games
Publisher(s)
Black Forest Games
Designer(s)
Jean-Marc Haessig,
Vladimir Ignatov,
Alex Pierschel (Art)
Composer(s)
Chris Hülsbeck,
Machinae Supremacy,
Fabian Del Priore
Engine used
Havok Vision
Platform(s)
Microsoft Windows
PlayStation 3
PlayStation 4
Xbox 360
Xbox One
Wii U
Nintendo Switch
Giana Sisters: Twisted Dreams (formely known as "Project Giana") is the third official sequel in the Giana Sisters series. Like its predecessors, it is a platform game developed by Black Forest Games. The game was crowd funded using the Kickstarter website reaching its goal of $150,000. It's has been released on many ports alongside with many additional contents.
Plot
[
]
One night a portal opens and Giana's sister, Maria is sucked through into the Dream world. Giana enters the portal and after a short while, encounters the dragon Gurglewocky who devours her sister. The dragon flies off and it is up to Giana to rescue her sister. She finds she has the ability to transform at will between her normal "cute" persona and her "punk" persona, which also changes the environment. While in her "cute" persona, the world is dark and sinister and in her "punk" persona, the world becomes more brighter and beautiful.
Gameplay
[
]
In Giana Sisters: Twisted Dreams, This side-scroller 2.5d platformer Giana can swim, jump, kill enemies by jumping on their heads or 'twist' the dream, and collect gems to unlock next the levels. When Giana twists, the entire dream world is transformed, changing everything in the surroundings right away and it can be performed at any moment in any level. In the Nightmare version, Cute Giana is peaceful, mocking the nightmare which once frightened her when she was a child, and with peaceful music in the background. Cute Giana can twirl, spin in the air, and fall very slowly. Unlike in previous games, Giana no longer need a Fire Wheel to transform into her "punk" persona. In the Dream version, Punk Giana is upset and the soundtrack is turned into metal music arrangements. Punk Giana can bash, reach high passages, destroy weak obstacles and kill enemies. Some obstacles are only present in one world, or moving platforms change their direction when Giana twists. At the end of each world there is a boss to beat: Giana has to avoid its attacks and find a way to hit it three times.
There is no life counter. After Giana dies, she respawns at the last checkpoint. At the end of the level the performance is rated with one to five stars, depending on the percentage of collected diamonds, number of deaths, etc. Stars are used to unlock boss levels and hardcore modes. In the Hardcore mode there are no checkpoints. When dead, the entire level needs to be restarted. In the Über-hardcore mode Giana has only one life. If she dies, the game starts back at the first level.
World
[
]
The Dream world has become a huge and magnificent place that has both a light side and a darker, sinister side. It is made up of various worlds and/or realms that Giana must travel to save her sister.
World 1
[
]
Mysterious Meadows (1-1)
Whirlwind Forest (1-2)
Crystal Pond Road (1-3)
Soar Wing Hills (1-4)
Owlbeak Castle (1-5)
Amethyst Mines (1-6)
World 2
[
]
Crystal Canyon (2-1)
Old Crasher's Castle (2-2)
Spooky Dungeon (2-3)
Owl Shreik Ravine (2-4)
Enchanted Mountain Path (2-5)
Clockwork Lighthouse (2-6)
Dreadful Straits (2-7)
World 3
[
]
Fluffy Cloud Mountain (3-1)
Emerald Cliffs (3-2)
Haunted Swamp (3-3)
Temple of Doomdidoom(3-4)
Owl Wing's Nest (3-5)
Breakneck Passage (3-6)
Boiling Springs (3-7)
Rumbling Rifts (3-8)
Dread Dragon's Keep (3-9)
Gurglewocky's Lair (3-10)
Additional contents
[
]
Here's a list of additional contents of the game with their exclusif new features and contents :
Note : the additional contents aren't listed in chronological order of their releases.
Halloween levels
[
]
It adds new Halloween themed levels. It also changes Giana's head into a pumpkin.
Christmas levels
[
]
It adds new Christmas themed levels. It also add a Christmas variant for the In-Game 5 theme.
Rise Of the Owlverlord
[
]
It adds a brand new world, 7 new levels with different environments and a new boss called "The Owlverlord". It also adds new soundtracks.
Director's Cut
[
]
It adds all of the previous additional contents mentioned above. It can be also called "Twisted Bundle".
Rogue Stormers level
[
]
Also called as "Dieselstörmers level" (Dieselstörmers is the former name of Rogue Stormers), it adds a new Rogue Stormers themed level. It's was made to promote the game.
New multiplayer
[
]
Also called as "Dream Rush mode". It is very similar to Giana Sisters: Dream Runners, except is it very limited. There is no costumes, no new soundtracks and less maps to race on.
Limited Edition
[
]
It adds some physical goodies like a poster and a CD that include the game's soundtracks. It also adds new skins for Giana in-game.
Owltimate Edition
[
]
Only available on Nintendo Switch. It is similar to Director's Cut, except it adds more contents like 5 new levels, new soundtracks and different new loading screens for each levels on the story mode.
Development
[
]
History
[
]
After the development of Giana Sisters DS in 2009, Spellbound Entertainment went bankrupt and Armin Gessert died from heart attack. Soon after the dissolution of the company, Black Forest Games was founded by the key members and management from Spellbound. The newly-established game developer decided to move on their own and took over all Spellbound assets, including the intellectual property. In total, 40 of the former Spellbound team of 65 members followed and became part of Black Forest Games. While Black Forest Games was formed to develop action role-playing and strategy games, their foremost desire was to develop a brand-new Giana Sisters title.
Beginning production in early 2011, Black Forest Games was initially shopping the game around to various publishers, the conditions put on the developer in order for the game to see a release wasn't well received and required a lot of content to be cut. The team was eager to break away from the public perception that the franchise is only known as a Super Mario Bros. clone, and searched to change it by creating a unique modern platforming game with high production values and original game mechanics. One of the most important aspects of the very first Giana Sisters game was the ability to transform into a "punk", and this became the basis for Project Giana.
Building on the concept of Giana's own transformation, the team began to draw a concept for Giana to have the ability to change the world around her and herself. Several prototypes were made to test the trans-morphing of the environment, enemies and Giana's own abilities. The concept was considered to be a success, and Black Forest Games began to focus the game to make use of a transformation system which is controlled by the player itself. The engine was built up entirely in-house in order to provide a player-controlled switch affecting the entire environment, as well as the in-game audio which has two distinctly different sounds depending on which dream world is being played.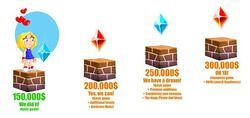 Despite being relatively far into development, the company contemplated shelving the game indefinitely in order to fund the game themselves through assembled profit from other future game releases. However, due to the success of Kickstarter in the spring of 2012, the company decided to revive the project and assist development by crowdfunding. The Kickstarter campaign was launched on July 30, 2012, setting the goal amount at $150,000. The game's stretch goals mentioned that Project Giana would see a basic 16-level release at $150,000, and a full version 20-level release at $200,000. In the event of the fundraiser going beyond the set goal, OUYA support was also mentioned at $300,000.

The fundraiser reached its goal on August 29, 2012, 3 days prior to its last day. It amassed a total of $186,159 on the official Kickstarter site, and reached $190,000 when the PayPal pledges were added in. A livestream was held to celebrate the success, broadcasting live from the Black Forest Games offices, featuring interviews with the team itself and also with Chris Hülsbeck via Skype. Fans were invited to vote for their preferred title to be used when the game is released. The three choices were "Twisted Dreams", "Giana's Twisted Dream", and "Project Giana". On September 21, 2012, the name of the game was revealed to be "Giana Sisters: Twisted Dreams".
Release
[
]
Giana Sisters: Twisted Dreams was released in digital form on October 23, 2012 on Windows. DLC content titled "Giana Sisters: Twisted Dreams – Rise of the Owlverlord" was released on September 26, 2013 for Windows. Those who backed the original Kickstarter campaign were able to download the content for free. Rise of the Owlverlord could also be purchased by itself, as a stand-alone game.
In May 28, 2013, a limited edition of the game was released only in Germany, which contains the complete soundtrack on CD, new exclusive skins and a poster.
A physical "Director's Cut" (released in some regions as the "Directowl's Cut") was released for WiiU on October 29, 2015 and then later on the PlayStation 4 on March 4, 2016. It included the game along with Rise of the Owlverlord.
in Aughust 14, 2018, Owltimate Edition was annouced, being exclusif to the Nintendo Switch. It was released one month and half later (September 25) and the materialized version can be bought online.
Reception
[
]
Giana Sisters: Twisted Dreams was very well received, having 82% of positive feedbacks and 18% of negative feedbacks out of 859 evaluations on Steam. It's also got 77/100 metascore on Metacritic. The game is known to have many goodness such as the graphics, musics and unique gameplay mechanic. However, the notable flaws is the repetitiveness and lack of few contents.
Trivia
[
]