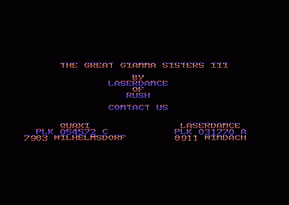 The Great Gianna Sisters III is a fangame based on the Great Giana Sisters released in 1988 by Laserdance of Rush. And it's a shot'em up game
The player's character is Giana (correctly referred to as Gianna) where she has to shoot as many enemies and grab any valuables for points as possible.
It is one of the four games to not have its mechanics that is similar to the Super Mario Bros; the other three games are I Want More Diamonds, Giana Sisters: Twisted Dreams and Giana Sisters: Dream Runners
Unlike the rest of the other games, the game's title has Giana's name correctly referred as Gianna.
Ironically, despite being an unofficial sequel, The Great Giana Sisters III is released before Giana 2: Arthur and Martha In Futureworld.