Warning! Any information about this article is unofficial and not canon to the Giana Sisters canon. Please read it carefully.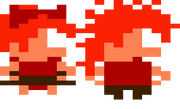 Zora is a playable character in Giana Family. She's only playable in the last version of the game. Also she's possibly the "evolved" version of Fiera.
Appearance
[
]
Similar to Giana (classic) sprite from The Great Giana Sisters. She has red hair, dark red node, beige skin, red shirt, brown skirt and white shoes.
Meaning of the name
[
]
"Zora" mean "zorra" in Spanish. also mean the kind of woman you would never want your daughter to grow up to be. That explain why Zora's clothes are red.
Gallery
[
]